Weleda Frequently Asked Questions
Quality & Ingredients
Why Choose Weleda Skin Care?
Since 1921, Weleda has pioneered the use of wild-crafted (from wild plants), organic and biodynamic farming principles in our NATRUE-certified natural personal care products whenever possible to promote harmony and health. We believe the closer we are to nature, the more our bodies work in harmony. Our finest ingredients are cultivated by the loving hands of dedicated farmers throughout the world. We create premier, nourishing personal care that captures the power and potency of nature. When you care for your skin with our plant-rich preparations, you experience a vitality that only nature can bring.
How does Weleda preserve its products?
All of our personal care products are certified natural by NATRUE and are preserved using a touch of grain alcohol, essential oils and nourishing plant extracts to maintain the life of our products. Our unique and recyclable packaging protects each formulation from light and air, helping to prevent oxidation. With our effective preservation techniques, our products needn't be refrigerated. However, their freshness information is on packaging.
How do you color and fragrance your products?
Our products are the color of the essential plant extracts that are used in the formula. All formulas are fragranced with those same essential oils and plant extracts. We do not use any synthetic colors or fragrances.
Do you use any synthetic ingredients?
We use only nourishing essential oils and plant extracts. All Weleda personal care products are certified natural by NATRUE, FREE of synthetic preservatives, fragrances, colorants and raw materials derived from mineral oils, as well as genetically modified organisms (GMO's). Our products are instead FULL of the highest quality plant extracts for your body.
What is biodynamic agriculture and why do you employ this cultivation method?
Recognized as a holistic, ecological, and ethical farming system, biodynamic agriculture includes gardening, food and nutrition, as well. The teachings of biodynamically-centered agriculture have been practiced worldwide for nearly a century. The basic idea is that the farm itself is a living organism—a self-sustaining system that creates and sustains life, and supports and heals itself. If it sounds like the principles Dr. Rudolf Steiner applied to how the skin functions, it is because it is the same concept of self-healing and growth.
At Weleda, we view the earth as an interconnected living organism. Plants, animals and human beings have an inherent and beautiful relationship with one another and their surroundings.
What is the INCI?
The International Nomenclature for Cosmetic Ingredients (INCI) is the system we use for labeling our ingredients. The multilingual and multinational labeling requirements of the European Union require a full declaration of ingredients on personal care packaging. This labeling standard denotes all ingredients according to their Latin (Chemical / Scientific) designation as specified by the regulatory board. All companies selling personal care products in Europe, and recently, Canada, are required by law to list their ingredients according to INCI regulations.

All ingredients are listed by their quantity of presence—greatest to least—in the product. Due to its full ingredient disclosure policy, the INCI standards strive to help you, the consumer, make informed and healthy purchases, helping you avoid any ingredients to which you may be allergic.
Why do some of your skin care products contain alcohol?
Weleda uses a "raw grain alcohol," a naturally-fermented plant-based sugar that helps preserve our ingredients and helps our products stay gluten-free. This alcohol is not drying, in fact, it is used to hold and stabilize our botanical tinctures and extracts. When creating traditional remedies, -fermented alcohols were used to release the life-force of the plants into the compounds.
Our alcohol is denatured by the essential oils in the formulas. Additionally, our products are gently heated which further diminishes any drying aspect of alcohol in the emulsified product.
Why do you use seed and nut oils in your products?
Plants oils, derived from seeds, nuts and fruits, gently care for and nourish your skin. Unlike petroleum-based mineral oils, plant oils are believed to help support and make your skin feel balanced.
What is glycerin and why do you use it?
Glycerin is a threefold-alcohol found in every fat. We use glycerin derived from the coconut or palm kernel oil. This ingredient is produced through the saponification process of plant oil and soap. It regulates the absorption and release of water, leaving skin feeling softer and smoother.
What is lanolin and why do you use it?
Lanolin is a wax derived from the wool of sheep. The process of extracting this wool does not harm the sheep in any way, as the shearing of wool is a necessary process. It is cleaned to remove any possible pesticide residue. This beneficial ingredient contains fats that give it an affinity to the skin, making it an ideal moisturizer. We use lanolin to nourish and moisturize the skin.
Do you test your personal care products on animals?
Weleda does not do any animal testing in the manufacture, development or quality control of its natural cosmetics, nor does it commission such testing. The company is fundamentally opposed to the use of animal testing. Weleda's personal care products are certified natural by the European organization NATRUE, which requires and enforces that no cosmetics be tested on animals.
However, product safety is paramount. Weleda uses raw materials that have been used for many years, so their tolerability is well documented. Before introducing new products to the market, Weleda carries out extensive in-use studies on volunteer subjects. The formulas are subject to toxicological testing to ensure their safety, tolerability and efficacy.
Do you use allergy-tolerated wheat starch or gluten in your products?
Weleda consistently works to bring consumers the highest quality and safest products, formulated with the finest ingredients. Some people have a digestive intolerance to gluten, a protein that occurs in wheat and other grains. It is unlikely for a person with gluten intolerance to have a reaction to a skincare product, since gluten can only be absorbed through the gastrointestinal tract. However, some people do have wheat allergies that may cause them to have skin sensitivities. Many Weleda personal care products contain alcohol derived from wheat, and some products contain wheat germ oil. We heat and distill our alcohol and filter our wheat germ oil to remove allergy-causing proteins, but we cannot guarantee that all of the residues are removed. If you have gluten intolerance or wheat allergies, we recommend that you consult with your medical practitioner before using any of our products containing alcohol, malt extract or wheat germ oil, as indicated on the ingredient label.
Facial Care
Which products do you recommend for sensitive skin?
Our Sensitive Skin Facial Care line is specifically formulated for sensitive skin. Please visit our Facial Care page for more information.
Which products do you recommend for normal/combination skin?
Our Hydrating Facial Care line is ideal for all skin conditions, including oily skin types. Please visit our Facial Care page for more information.
Which products do you recommend for skin seeing the first signs of aging?
Our Renewing Facial Care line is ideal for the intensive nourishment of skin seeing the first signs of aging. Please visit our Facial Care page for more information.
What do you recommend for removing eye makeup and treating the eye area?
Our Sensitive Care Calming Oil gently, yet effectively, removes eye makeup. Apply to a slightly damp cotton pad and pat over the eye. Our Sensitive Skin Facial Oil also nourishes the eye area. Our Renewing Eye Cream is formulated for use on the delicate eye area, it's a light fragrance-free eye cream for both day and night.
Mother & Baby Care
What Weleda products are recommended for expecting mothers?
Nearly all of our NATRUE certified personal care products are ideal for the pampering and nourishing care of Mothers. Weleda's Mother Collection - including Stretch Mark Massage Oil—is specifically formulated for mothers-to-be and mothers. Stretch Mark Massage Oil helps skin feel smoother and helps to reduce the appearance of stretch marks on the stomach, thighs, bottom and breasts. Foot Balm helps to soothe the feet and alleviate feelings of heaviness and discomfort. Sensitive Care Facial Care helps to keep skin feeling smooth. It is important for mothers to keep the skin well moisturized with creams and lotions to hydrate and to keep it nourished.
What is Calendula, and why do you use it in your Baby Care products?
Calendula, also known as Marigold, is renowned for its comforting, soothing calming properties. The gentle nourishing and warming properties of this flower make it ideal for use on babies, children and all delicate and sensitive skin types.
What should I use on my baby as a body moisturizer?
Comforting Body Lotion can also be used as a convenient daily care moisturizer. It is quickly-absorbed and helps keep the skin feeling soft and supple. Nourishing Body Cream may also be used on very dry and chapped skin such as the hands and elbows.
Can any of your products be used on my baby's face?
Weleda Nourishing Face Cream may be used on the face as a gently soothing moisturizer. Apply only as much as the skin can fully absorb and stroke gently into the skin.
What personal care products are appropriate for use in the diaper area?
We recommend applying Nourishing Body Cream for daily care or our Calendula Diaper Care Cream for more intensive care. These gentle, soothing creams help create a hydrating barrier, while allowing the skin to breathe.
What do you recommend I use for a nurturing infant massage?
Weleda Comforting Baby Oil is the best choice for a soothing and warming massage. This gentle oil contains sweet almond oil and fine essential oils.
What should I use to wash my baby's hair?
Weleda 2in1 Gentle Shampoo + Body Wash is ideal to cleanse and nourish your baby's or child's fine hair and delicate scalp. Formulated with sugar-derived foaming and cleansing agents, it forms the softest lather for gentle cleansing and care.
Can adults use Weleda Baby Calendula Care products?
Our Calendula Care line was specifically formulated for the delicate skin of babies. Therefore, it is also recommended for all sensitive skin types. Comforting Body Lotion and Comforting Baby Oil, for instance, are both perfect for daily nourishing care of all skin types.
Body Oils
When is the best time to use your body oils?
The best time to use our body oils is when the skin is still moist - ideally, after a bath or shower. When the skin is damp, it is able to draw in more of the skin-softening benefits and nourishment encapsulated within. Body oils may be used as regular, everyday body moisturizers or for a massage.
Will your body oils clog my pores?
We use only the finest oils that are easily absorbed by the skin, such as sesame seed, olive fruit, jojoba and sweet almond oils. Our body oils leave your skin feeling soft and rejuvenated.
Is a body oil better than a lotion for hydrating extremely dry skin?
Our body oils are a great solution for very dry skin. Our Pampering Body & Beauty Oil and Hydrating Body & Beauty Oil are especially good due to their nourishing properties. The lasting quality of body oils helps maintain the skin's moisture levels and feeling of suppleness between applications. While body lotions are also moisturizing, they evaporate faster because they contain water. Thus, when the skin is extremely dry, we suggest using one of our body oils to keep moisture in. For optimal hydration of dry skin on the body and face, we recommend Skin Food.
Which Weleda Body Oil do you recommend for a massage?
All our oils may be used for any kind of massage: foot massage, hand massage, neck massage, a relaxing massage or a sports massage. Our Muscle Massage Oil is our best-selling body oil for tired muscles. We also suggest Relaxing Body & Beauty Oil for a calming massage before bedtime. All our body oils are rich in plant oils.
Oral Care
Why are your toothpastes free of added fluoride?
We do not add fluoride to our oral care products. Fluoride is naturally available through mineral water and other sources. Thus, additional quantities are often not needed. However, only your health care practitioner can determine if extra fluoride is necessary.
Do you have a peppermint-free toothpaste?
Our Calendula Toothpaste is free of peppermint oil. In lieu of peppermint, this formula is flavored with fennel oil and licorice.
Packaging
What type of packaging do you use?
Our packaging is designed to protect and preserve both the product formulation and the environment. We design our unique packaging for easy use and durability, using three types of materials: Glass, food grade PET and PE/PP (plastic) and aluminum tubes with a protective coating.
Why do you use glass and aluminum tubes to package some of your products?
Glass and aluminum tubes are used to package some of our premier formulations due to the fine ingredient composition of the products. Essential oils, are "living," making them extremely volatile. Both glass and aluminum are nonreactive with the formulations, eliminating oxygenation, oxidization or degeneration.
Why do you use plastic bottles to package some of its products?
We use recyclable and food grade PET and PE/PP plastic to package some of our products, such as baby products, body lotions and body washes to ensure safe and easy use of these products.
What is the best way to store your products?
The best way to store our products is away from direct sunlight in a cool, dry environment. It is important that all products be firmly sealed after each use. We recommend that you store the products this way to protect the nature of the formulations.
What is the shelf life of your skincare and medicine products?
Our personal care products have an average shelf life of 2-1/2 years. Please always see our product packaging for individual product information and expiration dates.
Brand History
I've heard Weleda was an actual person and that the company is named after her. Is that true?
Priestess of healing and a real historical figure, Weleda lived 2000 years ago in what is now Germany. Weleda belonged to the tribe of Bructeri and, after a long period of political machinations, the Romans isolated the Bructeri from their allies in an effort to conquer them. Still fearing her influence, Weleda was taken to Rome as a captive and held there until she died in 80 AD. Interestingly enough, the name Weleda also appeared in Ancient Celtic times. In France's Ile de Sein, ceremonies were conducted by nine priestesses who had a particular understanding of plants and the elements. This group was led by a woman called "Velleda".
Where was Weleda founded?
Often referred to as a German company, Weleda was actually founded in Switzerland as a small pharmaceutical laboratory with its own plant garden. Today, our headquarters are still located in Switzerland, just outside of Basel in Arlesheim. We employ more than 2,400 people in 23 different offices around the globe. Additionally and in the spirit of our guiding principles, Weleda works together with over 50 long-term farming partnerships to consciously cultivate the highest quality natural ingredients in places such as Argentina, Hungary, Kenya, Mexico and Peru. Understanding that we bear responsibility for our partners who grow, harvest and process our natural ingredients, we recognize that its only through working together that we can really truly guarantee that the unique environments in which these farms, fields and forests are found are not exploited – but instead – are used and protected sustainably. It's why we're proud to be certified by the Union for Ethical BioTrade for "Sourcing with Respect".
Although we're based in Switzerland, we're working around the world, for the betterment of the world, with people all over the world valuing the notions of people and places, ethics and the environment, commerce and cultural diversity. In that sense, Weleda is truly a global company.
Where are Weleda's products made?
Processing raw ingredients as well as manufacturing beauty and personal care products (and medicines, too), Weleda's four main sites are located in Arlesheim, (Switzerland; where we are also headquartered), Huningue (France), Schwäbisch Gmünd (Germany) and Derbyshire, UK. Weleda has the largest medicinal plant gardens in Europe which are home to 1,000 different species of plants, 50 different types of birds and over 30 species of wild bees as well as eight medicinal herb gardens around the world – all managed to strict biodynamic standards growing ingredients just for us.
Together with more than 50 long-term farming partnerships globally with whom we share sustainable R&D innovations and collaborative cultivation techniques as well as support with medical care, education, fair pay and prices, Weleda's products as you see them in-store and online are a beautiful reflection of this diverse sum of our parts.
What is the concept of a "lead plant"?
Lead plants are emblems of our various product ranges that delivery particular properties, benefits and balance to the skin. Calendula (otherwise known as Marigold), for example, is renowned for its comforting, soothing and calming properties to inflamed and irritated skin. The gentle, nourishing and anti-inflammatory properties of this flower make it ideal for use on babies delicate and sensitive skin. Simply put, lead plants are the key ingredients in our products specifically formulated to address a particular skin care concern or need.
I've heard the term "biodynamic agriculture" when referring to Weleda's gardens. What does this mean?
Biodynamic agriculture is recognized as an integrated holistic, ecological and ethical approach to the farming and gardening of plants, flowers and ingredients which focuses on supporting plants and animals while creating nutrient-dense plants and emphasizing self-sustainability. The core value is nurturing a symbiotic relationship between nature and people. Sometimes referred to as the predecessor to organic farming and one of the early forms of regenerative agriculture, the teachings of biodynamically-centered agriculture have been practiced worldwide for nearly a century and is rooted in anthroposophy – a philosophy that has inspired aspects of
Weleda as an environmentally, socially and fiscally responsible company over the years. The basic idea is that the farm itself is a living organism – a self-sustaining system that creates and sustains life, and supports and heals itself. Biodynamic agriculture sees farming, seed production and landscape maintenance follow cosmic principles and the rhythms of nature and the earth. An excellent example of this is a planting calendar – we follow one in all of our biodynamic gardens. A planting calendar highlights the optimum days for seed sowing, planting and harvesting to ensure maximum quality and vitality. Understandably, the easiest rhythm to work with is the moon. By sowing our seeds a few days before the full moon, we can ensure good strong germination. And by planting during the two weeks of 'descending moon' we can encourage strong root development and healthy growth. The end result produces excellent raw materials while not only maintaining the land – but also replenishing it –and its living communities from microbes to wildlife.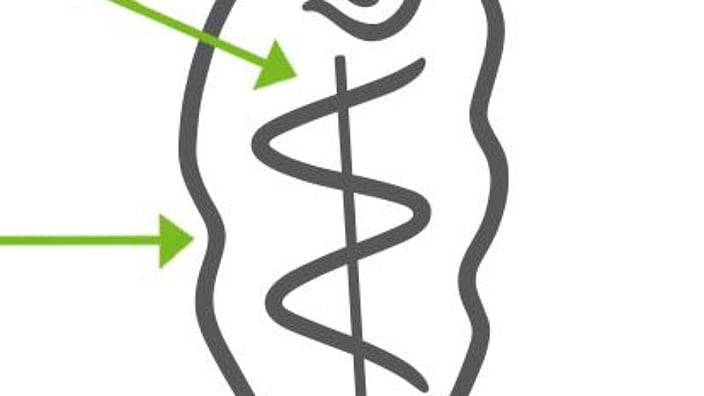 What does your logo symbolize? Is it a woman? Is it "Weleda"?
The staff of Asclepius, Greek god of medicine, is the symbol of physicians and is commonly found in pharmaceutical imagery.
The embracing, fluid outer lines of the logo convey encompassing protection and social interaction whether interpreted as two figures or cupped hands – it's coincidentally very similar to the logo belonging to UEBT from whom we have been awarded its certificate of "Sourcing with Respect" for people, biodiversity an the environment), combining the ideas of giving and receiving or physician and patient.
As a whole, our logo communicates the integrity of our products, with the serpent suggesting the development of new products that meet the challenges of modern life while the nurturing, protective and interdependent outer form represents social awareness and responsibility in business. Seen as a brand, the Weleda logo assures consumers that the company, the products and the philosophy attached to their purchases is not only ethical but exerts a positive influence in the world.