Messages From Our CEO
March 2022
October 2020
September 2020
August 2020
June 2020
March 2020
November 2019
June 2018
We Stand with Ukraine (March 2022)
Like so many of you, we are deeply distressed by what we are collectively witnessing in Ukraine and the unimaginable suffering, destruction, displacement and death as a result of the ongoing Russian invasion.
Heartbroken and horrified – with the safety of our Ukrainian colleagues foremost in our thoughts – we sincerely appreciate the extraordinary efforts of our colleagues in Germany, Poland and Slovakia who have been able to generously offer accommodation and other necessary assistance to those employees who have fled to safety. Thankfully, those who do remain in Ukraine are safe at this time. We will continue to remain in contact with our colleagues as best we can while keeping them and their families in our thoughts.
To date, we've made monetary donations for humanitarian aid to help those who need it at this time. Additionally, we're donating much-needed products to actively support the work of midwives caring for refugee women and children in Germany.
Weleda believes that, as a global community, we bear responsibility for one another. And, as ever at the heart of who we are, Weleda remains committed to a peaceful world and to the future of a safe collective livelihood for all.
Supporting the Foundation for Living Beauty (October 2020)
In honor of Breast Cancer Awareness Month, Weleda matched customer donations throughout October to the Foundation for Living Beauty – an organization that provides free support services to women living with cancer through wellness retreats, educational workshops and support events.
Foundation for Living Beauty:
Mission: To empower women to increase their physical wellness and emotional stability while coping with the taxing effects of cancer and chemotherapy;
Values: It is the belief of The Foundation for Living Beauty that empathy, compassion and sensitivity to the human condition are what first, above all else, allow us to truly and selflessly help others. We also believe that our integrity and determination to empower our participants in their battle with cancer guides us in our service to them. In all of our endeavors at The Foundation for Living Beauty, we will uphold these core values. The Foundation for Living Beauty is a 501(c)(3) non-profit organization, functioning as an activity and service-oriented organization dedicated to uplifting the lives of women living with cancer and cancer survivors. By offering innovative solutions to the challenges that women on their cancer journeys face daily, Living Beauty is able to realize its mission;
Purpose: The issues that women with cancer and cancer survivors confront each day are complex. Living with cancer and the harsh treatments that often accompany the disease are known to lead to inhibition of emotional expression, decreased physical ability, altered physical appearance, depression, high stress, anxiety and other detrimental effects that hinder the physical, mental, and spiritual well-being of women. The Foundation for Living Beauty cares about each individual woman, and applies our wrap-around approach to helping women regain their sense of femininity, self-worth, beauty and emotional stability after coping with the taxing effects of cancer and chemotherapy.
Improving the quality of life for those on a mentally, physically and emotionally exhausting cancer journey is something the Weleda team is humbled and proud to be a part of.
Weleda Condemns Racism (September 2020)
Recently we've heard criticism surrounding certain views expressed in the late 1890s by one of Weleda's founders, Rudolf Steiner. An Austrian philosopher who lived from 1861– 1925, Steiner also founded the practice of biodynamic farming – often seen as the predecessor to the modern day organic and regenerative agriculture movements. Studying many different cultures, religions and creeds, questions surrounding Steiner's views stem from lectures that took place during that period.
Compelled by an overwhelming sense of responsibility to gain clarity, Weleda has reviewed the published passages and determined that while Steiner's fundamental attitude reveals itself in his statement that "we must seek to unite people of all races and nations, and to bridge the divisions and differences between various groups of people", there are points in his works in which he expresses himself on the topic of race in an unacceptable manner. Weleda recognizes that some of Steiner's statements are racist and rejects them entirely. They go against the values and principles on which Weleda was established 99 years ago and by which we continue to be guided today.
Weleda condemns racism.
When Weleda was founded in 1921 by Dutch doctor Ita Wegman (one of Europe's first Female medical doctors) and German chemist and pharmacist Oskar Schmiedel, together with Steiner, their intention was to contribute to the expansion of the art of healing and to society in general in the sense of corporate responsibility.
Thanks in part to his early contribution (Steiner died four years later in 1925), Weleda continues to adhere to values such as holistic thinking, a sustainable approach to business, respect for nature, cultural diversity, fair treatment of employees and a relationship with suppliers and customers around the world based on partnership.
Racism goes against the principles we believe in. We can't be any clearer than that.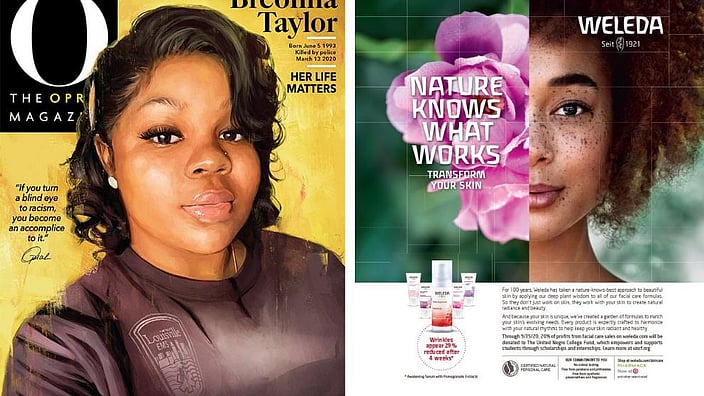 Making History: Oprah's O, The Oprah Magazine September Issue (August 2020)
Like other brands in the beauty industry, Weleda advertises throughout the year in various magazines including Oprah's O, The Oprah Magazine. When the team at O informed us of the powerful September 2020 issue they were working on memorializing Breonna Taylor on the cover, it was important to us to put our ad placement to good use in the most socially responsible and respectful way possible.
To bring bring awareness to injustice and to also support the financial needs of an organization working hard to empower, uplift and amplify those in the Black community.
With those sincere objectives in mind, Weleda made the decision to include a charitable donation within our ad and, together with the guidance of O, The Oprah Magazine, the United Negro College Fund was selected as the recipient. The UNCF is a positive cause full of promise that supports and empowers African-American students through college scholarships, internships and fellowships.
We stand alongside O, The Oprah Magazine in raising our voices to bring justice to Breonna Taylor.
A Message of Solidarity From Our CEO (June 2020)
Throughout our history we have consciously cultivated an environment of intentional respect – for nature, for the socially sustainable and collaborative relationships with our fair-trade partners and for the way in which we interact with one another every day. And yet – as we've been listening to the important conversations currently happening all around us – we're learning that we still have work to do.
Reflecting the values of dependability, social awareness, responsibility, healing and truth on which Weleda was founded in 1921, we stand in solidarity with the fight against oppression and racism. Black lives matter.
And it's time for us to get to work. In fact, earlier this week we started development of an official 'Weleda Diversity Plan' – a comprehensive approach to implementing change and designed to ensure that we are actively accomplishing our objectives with inclusivity, diversity and best practices at heart. As a part of the Weleda Diversity Plan, we will:
Audit the relationships we currently have with partners and platforms alike to ensure the people, brands and retailers we align ourselves with are truly reflective of our core values and guiding principles
Amplify the voices and experiences of the Black Community as well as that of Indigenous People and all People of Color to better reflect and communicate diversity on our growing platforms, among our influencer collaborations and brand partnerships with a purposeful intention towards playing an active role in changing the face of what has historically been an overarchingly white beauty industry
Actively drive and shift our organization of 37 employees (68% of whom identify as Female and 32% of whom identify as Male) to more accurately reflect the diversity of this country – currently the self-reported data reveals:

5% identify as Black
5% identify as Asian
5% identify as Hispanic/Latinx
3% identify as two or more races
70% identify as White
12% do not wish to share how they identify – a right which we respect
50% of our executive team identify as Female
100% of our executive team identify as White

Acknowledge the financial needs of the non-profit allies doing the work every day through a donation program effective immediately whereby 50% of the profits from our best-selling Skin Food collection sold on weleda.com through June 30 will be donated to the NAACP Legal Defense and Educational Fund and Black Health Alliance
As we continue the work, we look forward to sharing updates with you here.
Weleda and the COVID-19 Outbreak (March 2020)
As the COVID-19 outbreak continues to evolve and social distancing impacts how we gather for work and leisure, we want to let you know that Weleda is doing everything we can to support the health, wellness and safety of our employees, their loved ones and our customer community as a whole.
We're taking our direction from the Centers for Disease Control and Prevention as well as the World Health Organization. We've adopted a work-from-home policy and halted business travel for the time being. For those few whose tasks require them to be on-site, including our shipping department, appropriate distancing measures are in effect and work areas are routinely disinfected throughout the day.
We remain focused on continuing to empower people to live their best lives with a healthy balance of body, mind and spirit while collectively being responsible stewards of the planet.
Over the past few weeks, we've seen a surge in orders placed and we're doing everything physically possible to ensure your orders are shipped quickly and in safe conditions. We ask for your patience and understanding if it takes a little longer than usual to ship your order. As the situation changes, we'll be sure to keep you posted.
While social distancing is vital to flattening the curve to slow the spread of COVID-19, we know it can leave some feeling isolated and distanced from family, friends and their familiar routine. Founded 99 years ago on the belief that the human body is part of nature, we encourage you to embrace nature's restorative effects in an effort to find a bit of balance. A walk outside can help you feel refreshed. Even something as simple as periodically pausing to take three conscious breaths can help to calm and re-focus the mind during an uncertain time.
Take good care of yourselves and one another.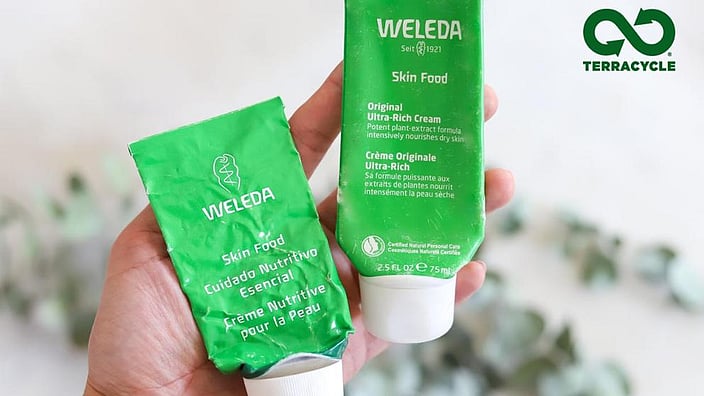 Recycling Program Launches in Partnership with TerraCycle® (November 2019)
There's no question – recycling rules and capabilities vary from city to city. And we understand that sometimes where you live determines just how green you can be with your empties. Good news! Today Weleda launches its partnership with the international recycling leader, TerraCycle®
Nurturing a symbiotic relationship between nature and people is our core value. Fundamental respect for nature is in Weleda's DNA and it guides everything we do – from innovative farming practices that actually pull carbon out of the atmosphere to our manufacturing facilities in France, Germany and Switzerland that use energy from 100% renewable sources. Teaming up with TerraCycle® to ensure our packaging has every opportunity to be recycled is an organic continuation of our fundamental respect for nature.
By participating in the Weleda Recycling Program, consumers have a unique opportunity to demonstrate their respect for the environment by diverting their packaging waste from landfills,
Participating is easy. And it's free.
Sign up on the TerraCycle® program page and mail in the packaging waste using a prepaid shipping label.
Once collected, the packaging is cleaned and melted into hard plastic that can be remolded to make new recycled products. Additionally, collectors can earn $1 per pound of waste sent to TerraCycle® to donate to a non-profit, school or charitable organization of their choice.
We hope you'll join us.
Weleda Receives First-ever UEBT Certification for Sourcing with Respect (June 2018)
The Weleda team is proud to share that Weleda is one of two leading brands worldwide to be the first to obtain the new UEBT (Union for Ethical Biotrade) certification and label for sourcing with respect. A non-profit organization that provides a globally recognized standard for sustainable sourcing and the use of raw materials, the UEBT certification seen here (show image of label) will help to convey to conscientious consumers that they are buying products from a company that treats people and biodiversity with the highest respect.
Ethical and responsible sourcing is truly at the heart of who we are as a responsible corporate citizen and we are incredibly honored to be recognized in this way. We take our leadership role in the global community seriously and sincerely hope that more companies follow our lead and join us to work in harmony with both nature and the global supply chain to protect and nurture the environment, biodiversity and the lives of the farmers and gardeners that share in this commitment.
Weleda contributes to a world in which people and biodiversity thrive.
Keep your eyes open – the UEBT label will first appear on Weleda products in the beginning of next year.